Juicy poetry items that Jett Whitehead of Bay City, MI will offer at the 53rd Chicago Book & Paper Fair:Ted Hughes. SELECTED POEMS: 1957-1967. New York: Harper & Row (1973) 1st edition, uncorrected galley proof, blue binding tape (as issued). The proof copy Harper & Row provided to the author, with his many corrections and annotations, including his editorial markings for the printer. Signed on the cover "Checked / T. H." by Hughes in blue ink. Truly unique, one of a kind.
Elizabeth Bishop. (May Swenson.) THE COMPLETE POEMS. New York: Farrar Straus Giroux (1969, 1970) third printing, full navy blue cloth, with printed dust jacket. The poet May Swenson's personal copy, with a hand written letter from May Swenson's Literary Executor, Zan Knudson, laid in. In the letter, Ms. Knudson states (in part): "This copy of E. B.'s Poems comes from the library of May Swenson, who was a rabid fan of Elizabeth's. The poems cut out of The New Yorker are May's. These piled up over the years to form her own Collected Bishop." Included with the book are the referred poems, including the first appearance of Bishop's much celebrated poem, "One Art," along with a review of Bishop's book by John Ashbery from The New York Times Book Review. Swenson succeeded Elizabeth Bishop as Chancellor of the Academy of American Poets, and won the Bollingen Prize for poetry in 1981. Swenson was long associated with The New Yorker, where her poems were frequently published. Only minimal wear and mild sunning to jacket, else fine. This title won the National Book Award.
Robert Frost. A BOY'S WILL. London: David Nutt, 1913, 1st edition, full bronze pebbled cloth, without dust jacket (as issued). Specially signed by Frost on the half-title page in fountain pen ink. The celebrated author's first commercially published book, presented here in the very rare first binding of which "no more than 350 copies were bound" in the bronze pebbled cloth. (Crane A2, p.8). A beautiful copy, very bright, and signed by this four-time Pulitzer Prize winning poet. A scarce title, especially so signed and in unequalled fine condition. The book is attractively housed in a specially designed archival box, featuring French goat spine, Roma paper boards, mahogany frame, and genuine gold titling. Truly a cornerstone for any Frost collection.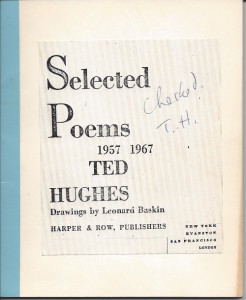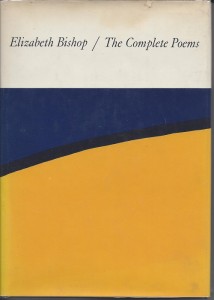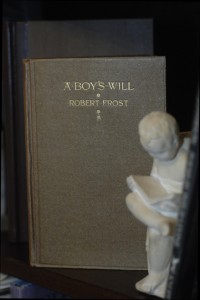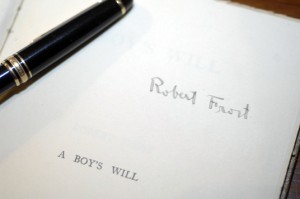 Looking Glass Books of Oak Park, IL will bring some swell lookin' books to the 53rd Chicago Book & Paper Fair:
James Lee Burke's Lay Down My Sword & Shield, First Edition
A signed First Edition of Deliverance by James Dickey
Snoopy's It Was a Dark & Stormy Night, First Edition signed by Charles Schulz
The renowned rohebooks (small "r", like e.e. cummings) from Evanston, IL is going to bring some nice ones to the 53rd Chicago Book & Paper Fair:The Jerusalem Windows by Marc Chagall, a Fine/Fine copy of the First Edition, published by George Braziller in 1962, which includes the two original lithographs made by Marc Chagall for this edition. Includes the scarce slipcase.An Iconography of the Engravings of Stephen Gooden. London: Elkin Matthews, 1944. Of a total edition of 500 copies printed at the Curwen Press, this is number 102 of 160 copies specially bound and with a frontispiece engraving signed by Stephen Gooden. Top edge gilt, bound in half vellum with blue cloth boards. A fine copy in a lightly soiled slipcase.
What about complete sets of the works of great authors, you ask? Complete Works of Herman Melville in 16 volumes? Yes! 10 volumes of Lord Macaulay? Yes! 7 volumes of G.D.H. Cole's History of Socialist Thought? Of course! Complete Stephen Crane? Yes! Complete Works Victor Hugo in 23 volumes? Oui!
Fans of HBO's True Detective will want to visit Beasley Books at the 53rd Chicago Book & Paper Fair, as they will offer a 1st printing of the First Edition of The King in Yellow by Robert Chambers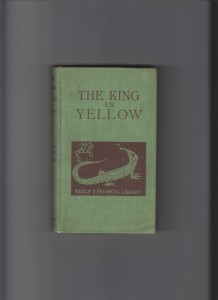 The prestigious Plain Tales Books of Arlington Heights will be at the 53rd Chicago Book & Paper Fair, and among the treasures they will offer will be this:
The Knave of Hearts
by Louise Saunders
Illustrated by Maxfield Parrish
1925. Charles Scribner's Sons. New York. First Edition.
A beautiful copy in fine condition.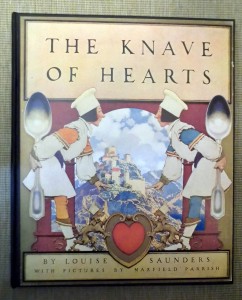 The esteemed Wilfid M. de Freitas of Montreal, Canada will be offering many fine books at The 53rd Chicago Book and Paper Fair, including the following (subject to prior sale):
1. Sir Winston Churchill. The Second World War. London 1948-54. 6 vols. in dust jackets, first editions, signed in volume 5 by Churchill. $6,000
2. Charles Darwin. Expression of the Emotions in Animals and Man. London. 1872. First edition in original cloth. $950
3. Florence Nightingale. Notes on Nursing. London [1860]. First edition in original limp cloth. $850
4. Three 19th. C fore-edge paintings. Each in the $500 – $600 price range.
5. Samuel Johnson. Dictionary of the English Language. London 1816. Eleventh edition. 2 vols. $950
6. Two important golf books:
Everard, H.S.C. History of the Royal and Ancient Golf Club of St. Andrews. Edinburgh 1907. First edition. An exceptionally fine copy. $1,150
Darwin, Bernard. The Golf Courses of the British Isles. London 1910. First edition. $875.
7. A selection of first editions by Charles Dickens, in the $400 -$500 price range.
Pictured are the Churchill and the Florence Nightingale.