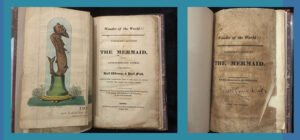 The ABA in the UK and ILAB were alerted today about the following incident:
The book in question – see full description below – was purchased in 2013 by a Bermuda-based collector, since deceased.
The collection is being handled by Bryars and Bryars in the UK (contact details below).
In August 2021, the book was listed as part of the consignment; however it was missing from the container when the shipment arrived in December 2021. The list was compiled after the owner's death so it was not sold for given away by him, it was not disposed of by the executors or the beneficiary of the will.
FAIRBURN, John (author) and Robert CRUIKSHANK (illustrator). Fairburn's Account of the Mermaid, the most extraordinary animal in the Creation, half woman & half fish, forming the connecting link in the chain of nature between the human and piscine tribes. John Fairburn. [n.d., 1822].

8vo. Sometime bound in brown calf-backed red marbled boards, gilt lettering to spine, original wrapper bound in; pp. 32 + [6, ads.], folding plate with two hand-coloured engravings by Robert Cruikshank; some browning and chipping, especially to original wrapper, very good. First edition signed by Robert Cruikshank.
Advice is being taken from the police, but in the meantime we would ask you not to purchase this book if approached. Please either contact the ABA or ILAB office or Tim Bryars of Bryars & Bryars in London if the item reappears in the trade.