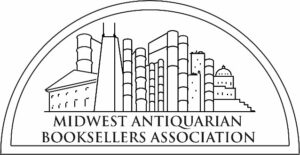 You MWABA Board is pleased to announce the new Chicago Book & Paper Fair Manager.
Quoting your president, Hank Zuchowski:
"We are pleased to announce the selection of John Montes as our 2022 MWABA Chicago Book Fair Manager.  John succeeds M. Sylvia Castle who has resigned from that position.  John was a MWABA member for many years and has exhibited at our Chicago area Book Fairs.
He worked together with Pat Martinak for several years when they managed a number of our Book Fairs, including Northwestern and DePaul.  He has helped out at our Fair at the Plumbers Hall.  John owned 2 open Chicago area book shops in the past and has worked with the Newberry Library and at the Chicago Rare Book Center in Evanston.  He helped establish the Illinois State University Book Fair which ran for a number of years.
John currently does some book selling on the internet.  The 2022 Chicago Book Fair will be held on Saturday, June 18th with setup on Friday, the 17th.  Please give John your full support as he undertakes the Manager role.  The email address for the book fair is MWABAChicagoBookFair.com.  Thanks for your cooperation in this matter."
Hank