Volume 5, No. 4
Letter from the President
Dear Fellow MWBH Members,
As 1999 draws to a close, the time is appropriate to reflect upon what the MWBH association has accomplished during this past year and what we hope and plan to do during 2000. As we move into the new millennium, in our attempt to be responsive to the needs of our membership, our efforts will be focused upon either continuing, improving upon, and / or changing direction from what we have been doing.
A review of our major areas of improvement during 1999 clearly points to the importance of our membership recognizing and appreciating the tireless efforts and hard work done by a number of our members who volunteered many hours of their time for the betterment of our MWBH association.
Eimi Andrews-Rose has served us extremely well in her capacity as president of MWBH. And Eimi, along with Peter Dast and Joycelyn Merchant, have done an outstanding job in setting us up with a MWBH web page we can all be proud to be associated with. You should also be aware that all three have volunteered to continue in 2000 with their work on the web page. To my knowledge, we are the second largest used and antiquarian bookseller association in the United States and one of the very few with their own web page. As we move forward in 2000, we plan to fine tune, expand upon, and explore how we can better enhance all of our book selling businesses through information and assistance for our customers and for each other through our web page. Having recently purchased a computer for my own business endeavors, I am excited about the business increasing possibilities the web page can offer each of our dealer members, whether they are computerized or not. Any suggestions any of our members can make to help us achieve the very best web page from the excellent foundation established will be appreciated.
It should be noted that Peter Dast has served and continues to serve us in a fine manner as chair of the elections committee. With six board members' terms expiring in 2000, he will be asking for your help for nominations and elections of board members.
Joycelyn Merchant has done a fine job for us as the Chicago Area Book Fair Manager, and as our very capable MWBH Coordinator. As you are aware, Joycelyn began her year round coordinator position this year and has been asked to get involved in more and more aspects of our business as her role become better defined. We are fortunate to have someone of her caliber to assist us.
Bernie Rost continues as our Treasurer and has been a solid anchor for us as he keeps us up to speed and handles the many duties involved with the financial end of our business. Bernie, along with the other board members, will be looking towards ways of improving our financial status during 2000. Unfortunately, with the added costs of running our association, coupled with non revenue producing book fairs at Navy Pier, we need to keep a watchful eye on our bottom line. Although our goal is not to be a profit making organization, we need to have sufficient funds available in our treasury to support our chosen activities.
Richard Wunsch and Becky Scott have done a real nice job as secretary this past year, and Becky will continue to serve in that capacity during 2000. Thanks to you both.
Phyllis Tholin has been invaluable as the by-laws chair. While there are no changes to the by-laws planned at the current time, Phyllis, who has been a long-time MWBH member and board member, stands ready to continue to guide our association with her
experience within the organization, and with her knowledge of the history of our by-laws, should any changes be determined.
Richard Avol has been the Membership Chair and a board member for many years and has produced another first class membership directory this year. He has put in a tremendous amount of time and work on board activities and deserves a standing ovation for his efforts. Richard plans to retire from the board after his current term in order to devote more time to his own book business.
Larry Dingman has volunteered to take over the membership chair from Richard and should be very busy in that capacity as a number of individuals have indicated an interest in becoming MWBH members. As you know, Larry has served and continues to serve as our summer Minnesota Book Fair Manager . The Minnesota Book Fair was our most successful book fair during 1999. I cannot say enough about how much of a debt of gratitude we owe Larry for the outstanding efforts he has put forward to make the Minnesota show a premier event and an annual success.
Lynn Bohling, Roger Carlson, and John Peterson have brought many years of book selling experience to us as they served on the board of MWBH. They have offered many helpful suggestions for the betterment of our association. Roger will continue to serve on the board in 2000.
Pat Martinak continues to give her time as publisher of our newsletter. She deserves a lot of credit for providing us with this excellent communications document.
Thanks also to all of the members of the various committees for all they have done and others who have made a contribution during 1999 to help us be responsive to the membership.
And last, but definitely not least, thanks so much to Tom Zimmerman and to Carole Goodwin who have served us as the book fair chair during the past year, with Carole continuing in this position for 2000. Our hats are off to both of them because both had the unfortunate and thankless job to make the best of our having to schedule both of our 1999 Chicago area book fairs at Navy Pier. While Navy Pier offered some aesthetic and other pluses, without going into detail, I believe most of us know what the various draw backs were with having our book fairs at that venue. In short, we simply could not find a suitable alternate location. But thanks to their efforts, and some others, especially Joe Girardi, we are now able to return to Loyola for our spring, 2000 book fair. We believe the venue will be a vast improvement over Navy Pier in so many aspects. And as you will note from reading the minutes of our last board meeting, we also plan to have an open membership meeting and a dinner for the membership on the evening before the spring fair. We hope many of you will be able to attend.
We are still looking for a feasible location for our fall, 2000, book fair. If you have any suggestions, please let us know. I think many of us still remember the excellent book fairs we used to have at DePaul in the spring, and at Northwestern in the fall, and would like to return to those "good old days." Unfortunately, DePaul no longer has a facility large enough to satisfy our space requirements, and Northwestern is still unavailable for non-athletic events. I see some of our biggest challenges for 2000 and beyond as being the re- establishment of our Chicago area book fairs to a suitable location (s), to increase attendance at the Chicago area shows, and to do continued work on improving security at such fairs.
During 1999, we have attempted to foster a closer relationship between ourselves and other book related groups, as with the Center for Book and Paper Arts at Columbia College, and will continue to do so in 2000.
There have been other areas we have been involved in during 1999, and others we will pursue during 2000, but in the interest of time of time and space, we have only hit on some of the highlights here.
Sincerely,
Hank Zuchowski,
New Member Application

Page Books, proprietor, Maggie Page, has applied for membership in MWBH. Page Books is located at 117 Danville Pike , Hillsboro, OH 45133. Phone: (937) 840-0991; e- mail: pagebook@dalco.net. Page Books has been recommended by First Folio Books and Jackie Hughes. All queries and comments about this potential member should be sent to Larry Dingman, at Dinky-town Antiquarian Books, membership chair.. (612) 378-1286
Elections
Annual elections for the MWBH Board of Directors are soon upon us. According to the by-laws, the elections shall be completed by the MWBH spring fair. Watch for a candidate information packet and ballots soon.
Peter Dast
Chair, Nominating Committee
UpcomingBook Fair Information
Chicago Area Spring Book Fair
We do have a new location for the Spring Book Fair. It's scheduled to be held on Sunday, March 26, 2000 from 10 am – 5 pm at the Joseph J. Gentile Center at Loyola University, the site of our Spring 1998 fair.
The facility at Loyola is excellent, with good lighting and plenty of space. There will be free parking for patrons and dealers. We plan to use all 8 foot tables. Booth fees will depend on the overall estimated cost to MWBH, but should be a bit lower since our expenses will most likely be reduced. Any suggestions or ideas for making future fairs more profitable or user friendly for everyone are most welcome.
Contracts for the Spring book fair were mailed in early January. Letters regarding your membership status and dues collection for 2000 were enclosed with the book fair contracts. If, for some reason, you did not receive the contract and dues mailing, please call Joycelyn Merchant at (773) 989-2200, or write: J.Merchant, MWBH, 1759 Rosehill Drive, Chicago, IL, 60660.
Indiana Book & Paper Show on March 5
The16th Semi-Annual Indiana Book Paper Show date is set for Sunday, March 5, 2000. The show will be held once again at the Ritz Charles, 12156 North Meridian St., Carmel, on the north side of Indianapolis. Show hours are 10 AM to 4 PM local time. For dealer information contact Bob & Becky Scott, Yesterday's Books, 765-966-3056 or email YestrBooks@worldnet.att.net
Twin Cities Book Fair
The annual Twin Cities Book Fair, sponsored by Midwest Bookhunters, will take place on Friday, July 7th from 4:00 p.m. to 9:00 p.m. and on Saturday, July 8, from 10:00 a.m. to 5:00 p.m. at the State Fair Grounds, the Empire Commons Room, in St. Paul. More than 125 dealers are expected to exhibit and sell their books. Admission is $5.00 on Friday and $4.00 on Saturday. There is plenty of free parking. Contact Larry Dingman at (612) 378-1286 for more information.
Volume I Books To Move
We are not holding the Tri-State book fair in January of 2000. The main reason for this is that we have sold our building to the city (they are going to raze it and build on to the existing post office), and we need to focus our energy and effort into moving and expanding our retail space. Hosting the show would take too much time away from what we need to be doing to move the store. We have over 65,000 books so it will be quite the job.
We may have an auction in mid-winter since that's the part most dealers seemed to like best, and the planning would be a lot easier.
Dealers and customers can look forward to our winter sale schedule, which will offer a chance for many to load up on the inventory at bargain prices.
Aimee England
Girls' Series Books Journal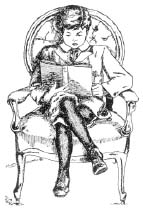 The Whispered Watchword, a journal focusing on girls' series literature, is seeking submissions for upcoming issues. The journal's research focus is series literature written especially for girls, with an emphasis on female detectives such as Nancy Drew, Judy Bolton, and Trixie Belden, though articles on any girls' series are accepted.
For more information, please send a request for manuscript guidelines to: Michael G. Cornelius, Submissions Editor, at mcor7215@postoffice.uri.edu
Blues and the Bookseller
One of our own, Paul Garon, of Beasley Books, long-time member of Midwest Bookhunters, will be giving a paper at the Modern Language Association convention in Chicago this week (Dec. 27- 30). Paul is one of three people presenting papers at a panel called "'A Blues Book Most Excellent':Blues, Ideology, and Afro- American Literature Turns Fifteen."
The panel is being moderated by Houston Baker, author of the book being honored (Blues, Ideology, and Afro-American Literature. A Verna-cular Theory, Univ. of Chicago Press, 1984). Houston used a "blues matrix" to provide a new schematic for ana-lyzing African American literature.
In "'You Don't See Into the Blues Like Me': Houston Baker's Blues Position," Paul Garon addresses what he calls "Baker's analysis of the dangers of integrationist criticism" from his own distinctive perspective as a white surrealist anti racist, ex-ploring "parallels and divergences" between his published positions and Baker's. Garon cites both Johnny Lang's recent meteoric rise as white-boy guitar wunderkind and the pub-lication of a text entitled Blues for Dummies (co-authored by a black blues musician and white rock writer) as documentary evidence of cultural retrogression, the dissolution of Baker's "blues force" under the onslaught of late capitalist exigencies.
Garon has contributed the chapter, "Post-War Chicago and the North" to the BLACKWELL GUIDE TO RECORDED BLUES. He is also the author of numerous articles and several books on the blues, including the revised edition of Blues and the Poetic Spirit. (City Lights Books, 1996).
Way to go, Paul!
LOST OR STOLEN BOOKS
Lost or stolen books should be reported to Pat Martinak, so that she can put the appropriate notices in the newsletter.
Maggie Page, of Page books reported the theft of a copy of The Vicar of Wakefield. It was a limited edition, illustra-ted by Arthur Rackham. She describes it as "having a vellum spine, with a small spot, no slip case, else fine." Should someone happen to try to sell you this book, or if you have any information, please let her know at Page Books, 117 Danville Pike, Hillsboro, OH 45133, ph: 937-840-0991.
Mark Larson of Fireproof Books in Minneapolis also reported the following losses:
Tony Hillerman. The Fly on the Wall. 1971, Harper and Row, New York. First Edition. Fine, with faint paper clip crease to front endpaper, in near fine dust jacket with minor rubbing and wear at spine tips and corners, one short closed edge tear.
Ross Thomas, The Seersucker Whipsaw. 1967. William Morrow, New York. First Edition. Fine, with owner name, in fine dust jacket.
Larry McMurtry. The Last Picture Show. 1966. The Dial Press, New York. First Edition. Fine in near fine dust jacket with two nearly hidden edge tears, one about two inches long at top spine gutter.
Dean Koontz (as K. R. Dwyer). Shattered. 1973 Random House, New York. First Edition. Fine in fine dust jacket with one short closed edge tear.
Robert Bloch. The Opener of the Way. 1945. Arkham House, Sauk City, Wisconsin. Fine in fine Ronald Clyne dust jacket.
If you have any information about these books, please let Mark know at FIREPROOF BOOKS, (612) 546-7033.