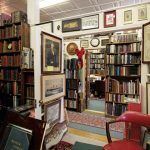 Watch MWABA President, Hank Zuchowski owner of Shaw's Books in Grosse Pointe Michigan, talk about his book shop with a reporter from WDIV, Detroit!
A former human resources executive at General Motors, Hank's shop is his passion and a pleasure to visit. I can personally relate to the thrill a bookseller experiences when placing the right book with the right person.
Congratulations Hank!