A Newsletter for Bibliophiles                                                                                                          February 2015
Printed & Bound
Printed & Bound focuses on the book as a collectible item and as an example of the printer's art.  It provides information about the history of printing and book production, guidelines for developing a book collection, and news about book-related publications and activities.
Articles in Printed & Bound may be reprinted free of charge provided that full attribution is given (name and date of publication, title and author of article, and copyright information).  Please request permission via email (pjarvis@nandc.com) before reprinting articles.  Unless otherwise noted, all content is written by Paula Jarvis, Editor and Publisher.
Printed & Bound
Volume 2  Number 1
February 2015 Issue
© 2015 by Paula Jarvis
c/o Nolan & Cunnings, Inc.
28800 Mound Road
Warren, MI 48092
Printed & Bound is published in February, June, and October. Past issues are available in the "Newsletters" section of The Book Club of Detroit website: www.bookclubofdetroit.org.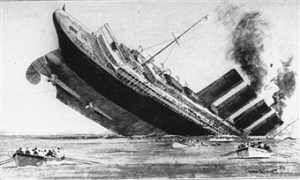 The RMS Lusitania, shown here as it sank on May 7, 1915, after being torpedoed by a German U-boat off the southern coast of Ireland.
1915:  A YEAR OF TRAGEDIES
When the British ocean line RMS Lusitania sank on May 7, 1915, Elbert Hubbard and his second wife, Alice, were among the Americans who lost their lives.  A charismatic philosopher, writer, and creator of the Roycroft Arts & Crafts community, Hubbard attracted a wide variety of designers and artisans.  Among them were Dard Hunter, whose contributions to typography and book design left a lasting impact on the Roycroft community and American design.  (NOTE: The community, founded circa 1895, survived after Hubbard's death until 1938.)  For more, see page 5.
The Great War also brought other tragedies that affected the literary world, including the death of four young English poets:  Rupert Brooke, Julian Grenfell and his younger brother Gerald William Grenfell, and Roland Leighton.  (The latter was immortalized in Vera Brittain's memoir, Testament of Youth.)  Bibliophiles continue to collect the works of these young men who, along with Wilfred Owen, Siegfried Sassoon, and others, became known and admired as England's "war poets."  For more literary events of 1915, see page 2.
ONE HUNDRED YEARS AGO
The Great War, now known as World War I or the First World War, began on July 28, 1914, when the Austro-Hungarian Empire declared war on Serbia a month after a Serbian assassin killed Austrian archduke Franz Ferdinand and his wife.  All of Europe, Great Britain, and much of the Middle East and Asia were soon embroiled in the conflict.  By 1915, it was clear that this war would last longer than anyone had expected.  The conflict finally ended three years later in November of 1918, a year after the U.S. declared war on the German Empire and mobilized four million military personnel to join the Allied forces in their fight against the Central Powers (Germany, Austria-Hungary, the Ottoman Empire, and Bulgaria).
On January 3, 1915, James Elroy Flecker (English poet, novelist, and dramatist) died from tuberculosis.
On March 15, George Llewelyn Davies was killed in action.  (George and his four younger brothers were James Barrie's inspiration for Peter Pan and the Lost Boys.)
On May 3, "In Flanders Fields" was written by Lt. Col. John McCrae (Canadian poet, artist, and physician).  This now-famous poem was published on December 8 in the London magazine Punch; McCrae died in 1918 from pneumonia.
On May 26, English war poet Julian Grenfell died in action.
The dedication for the Widener Library at Harvard University was held from May 13 to June 24.
On July 30, Gerald William Grenfell (brother of Julian Grenfell and also an English war poet) was killed in action.
P. G. Wodehouse's characters Bertie and Jeeves were introduced in the September 15 issue of The Saturday Evening Post (U.S.).
D. H. Lawrence's novel The Rainbow was published on September 30 in London and immediately prosecuted under the Obscene Publications Act of 1857.
In October, Franz Kafka's novella The Metamorphosis was first published in Leipzig.
American playwright Arthur Miller was born on October 17.
Alfred A. Knopf, Sr., established the Alfred A. Knopf publishing house in New York City.  (The "k" in Knopf is pronounced.*)
Frederic Goudy created the Goudy Old Style serif typeface for American Type Founders.  (Pronunciation is "gowdy."*)
T. S. Eliot's The Lovesong of J. Alfred Prufrock was first published.
Alan and Rex Hargreaves, sons of Alice Liddell (the inspiration for Alice's Adventures in Wonderland), were killed in action (Alan on May 9 and Rex on September 25).
W. Somerset Maugham's novel Of Human Bondage was published.
French author Romain Rolland won the Nobel Prize for Literature.
*As told to Literary Digest.
Download a PDF file of the whole issue here:  pandb-2015-february