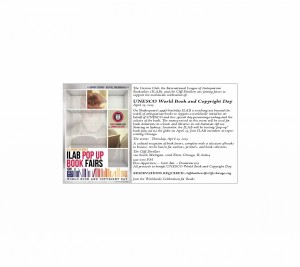 The Caxton Club, the International League of Antiquarian Booksellers (ILAB), and the Cliff Dwellers are joining forces to support the worldwide celebration of:
UNESCO World Book and Copyright Day April 23, 2015
On Shakespeare's 399th birthday ILAB is reaching out beyond the world of antiquarian books to support a worldwide initiative on behalf of UNESCO and this special day promoting reading and the culture of the book. The money raised at this event will be used for book donations in schools and libraries in sub-Saharan Africa. Starting in Sydney, Australia, the ILAB will be hosting "pop-up" book fairs across the globe on April 23. Join ILAB members in representing Chicago.
Check back with us soon for the location of the 2016 Pop-up fair!
Join the Worldwide Celebration for Books!